Limitless communication opportunities
Free calls for your customers via an 0800 number
Virtual PBX: every call, answered
Telephony
Datagroup's reliable, high-quality telephony covers all your company's basic communication needs. Thanks to digital and analogue channels based our own backbone network and primary networks, we guarantee the highest quality telephony services. The solutions we offer are designed to make intra-company communication easier, and to provide a stable connection with external customers and partners. Our experts are here to recommend the optimal solutions and service packages depending on your unique needs and requirements. Plus, we can get you connected in no time.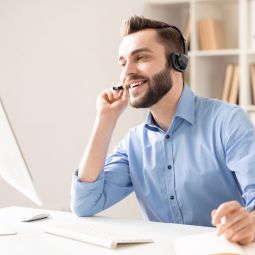 IP telephony allows users to make calls anywhere that has internet. No special equipment needed – just a PC, smartphone or laptop and headset. You'll benefit from unlimited lines and numbers, while savings on equipment coupled with flexible tariff plans help you to save money and boost business efficiency.
Datagroup's virtual PBX can completely replace your existing office PBX and give you even better results. IP telephony technology can be used for scaling up, deployment and configuration of phone network settings, without spending money on additional equipment. All you need is an internet connection. With virtual PBX from Datagroup, you'll never miss a customer call again. Favorable payment terms and no need to invest in new equipment helps you save time and money, and improve business efficiency. In just one working day, we can consolidate your regional offices into a single network, set up a call center, and improve your customer service using our virtual PBX.
0800 numbers allow your customers to call you free of charge from anywhere in Ukraine, regardless of their carrier's tariffs or geographic location. This is a convenient solution for setting up your own hotline or call center, and for conducting major marketing studies. You can choose an easy-to-remember number, while favorable payment terms and the absence of connection fees make this service as simple as possible.
0900 numbers are ideal for offering paid consultations via calls from customers located anywhere in Ukraine. Every customer call will be redirected to specified numbers at favorable tariffs, and you'll receive all calls to your landline or mobile phone with no need to invest in additional equipment. And because Datagroup provides this service directly, you can be sure of the transparency and quality of our service.
With Datagroup's SIP Trunk service, you can set up unlimited multi-channel numbers to communicate with your colleagues, customers, and business partners. This service can be easily scaled up according to your business needs, and allows SIP Trunk numbers to be connected from different cities in Ukraine. Digital data protocols provide high communication and voice/video quality. The service is also available for 0891 numbers that are not geographically tied to Ukraine. SIP Trunk can help you to shift from an analogue telephone system to a high-quality, advanced IP PBX system, which reduces telephony costs thanks to favorable tariffs and no additional equipment expenses. This is the ideal office telephony solution for modern business requirements.
Subscriber line connection
Datagroup offers tailored, turn-key solutions to develop telephone communication lines customized to your specific needs. Number redirection, call identification, and missed call recording features enhance communication efficiency with internal employees and external customers. We guarantee transparent payments, favorable tariff plans, and reliable service regardless of weather conditions and line load. The service can be easily adjusted and connected with other ІТ resources in your company.
ISDN PRI is a reliable solution to connect a standard office PBX to the national telephone network. Our experts specialize in setting up networks and call centers based on ISDN PRI technology, and can help you establish a corporate telephone network with short numbers that meets all your business needs – fast. You can connect 30 single-stream channels to the PBX and save costs on incoming calls thanks to transparent and favorable tariffs. These solutions require no extra expenses, as our office PBX ISDN PRI operates reliably without any additional equipment.
More than 40 telecommunication licenses
More than 100 telecommunication services for business and home users
Full-range services in more than
90 Ukrainian cities and towns
Over 20 years of telecommunication experience on the Ukrainian market