Respond to every customer
Increase the efficiency of your business
Outsourcing call center
Datagroup's outsourcing call center enables you to increase the efficiency of your business. Our telecommunication infrastructure and team of professionals can provide a fully-fledged call center according to your requirements – quickly and cost effectively.
Our offices in Kyiv, Nizhyn, Vinnitsa and Kremenchug offer outsourcing services and staffing. These include 600 workplaces, more than 400 experienced operators, and a team of highly qualified trainers along with quality control specialists who work with the staff. So you can be sure that every customer request or complaint is answered according to the highest quality standards.
You can trust us to work with Visa card and MasterCard payment systems, because our call center is fully compliant with the PCI DSS requirements. Our call center offers guaranteed security of networks, equipment, applications, databases, physical storage, documentation and process control – all confirmed by applicable certification.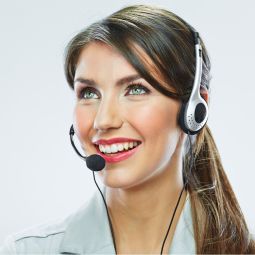 More than 40 telecommunication licenses
More than 100 telecommunication services for business and home users
Full-range services in more than
90 Ukrainian cities and towns
Over 20 years of experience on the Ukrainian telecommunication market