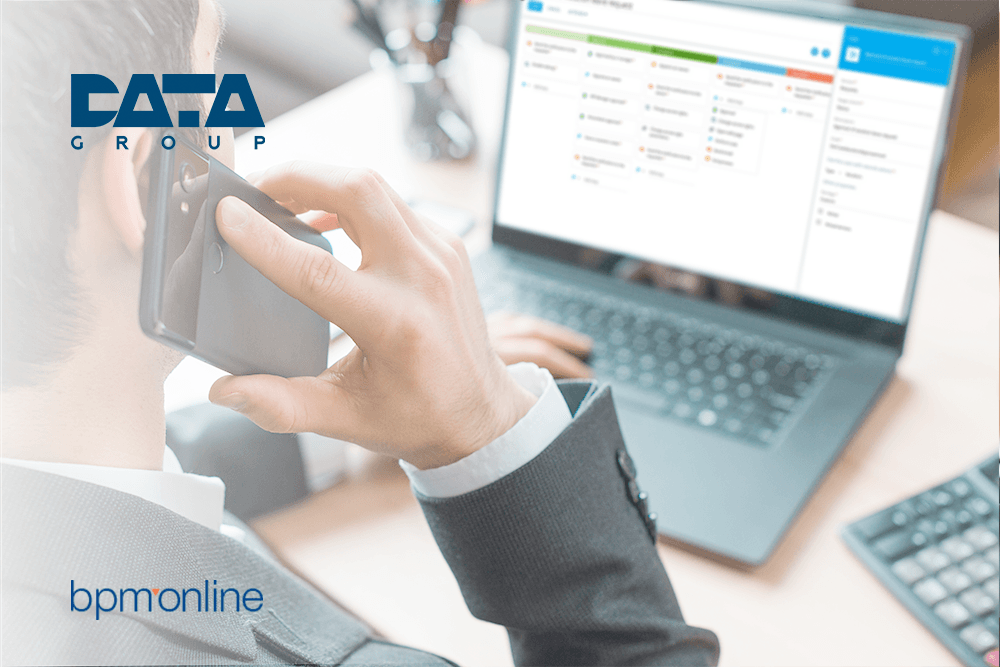 Datagroup, a leading telecommunications service provider on Ukrainian telecommunications market, has implemented a project on bpm'online platform based on Terrasoft products. The project made it possible to automate all stages of corporate clients' interactions and integrate them into a single IT platform: customer relationship management (CRM), technical sales support (NTS) and customer service (Service Desk). As a result, the company found one-of-a-kind solution on Ukrainian telecom market.
In 2016 Datagroup adopted a new development strategy. One of its main components is a complex transformation and digitalization of the company's key processes in order to improve the operational efficiency of the business. A key element of the strategy's implementation was a unified solution on the bpm'online platform, which made it possible for the divisions to work with the company's customers within end-to-end business processes: from receiving application, assessing technical capability and maintenance to service provision.
"Today, all information about a client – the processes, analytics and everything one may need at any level of management or interaction with a client - is located on a single bpm'online platform. Now all the company's corporate clients are serviced within a single system, which allows to synchronize actions of various departments. The project team has automated customer service processes within call centers, service and support. As a result, there is a significant improvement in customer service which is highly appreciated by our customers. We are planning to continue providing this solution to our customers in the future," commented Mariia Alieksieienko, Datagroup Сhief Сommercial Officer who managed this project.
According to Mariia, the bpm'online platform and integration of company's delinked IT systems into a single IT platform made it possible to create a unique tool for flexible sales planning and management, control of billing plans and payments. As part of the system implementation, there has also been created a single configurable catalog of company services.
For instance, the bpm'online CRM system allows you to predict and manage the growing needs of customers, as well as effectively interact with customers, in particular, instantly respond to their requests, analyze the entire interaction history, track the sales' "pulse rate", generate individual offers and establish loyalty. Mariia also stressed that due to work on a single platform, it became possible to automate sales of basic services - the Internet and data transmission channels, which significantly reduced labor costs.
"Service Desk offers an opportunity to control the quality of customer service (SLA), incidents (trouble ticketing) and process of their resolution. The technical management at the planning stage can more accurately estimate the period of service provision and speed up the resolution of emergency calls. Moreover, processing of client request for service activation or switching to a new billing plan has also been automated," commented Mariia Alieksieienko.
"Implementation of bpm'online helped us not only audit and transform internal business processes, but also optimize the functionality of the company's IT systems, integrating them into a single information platform. We have adapted the software for our business tasks and as a result received the ultimate solution that simplified the internal and external processes of the company. Customer Relationship Management (CRM), technical sales support (NTS) and customer service (Service Desk) are now on a single IT platform! Within this project, we also structured databases in all information systems and introduced an ESB, which made it possible to combine all information systems. It gives us more flexibility and an opportunity to integrate innovative IT products in the shortest time possible," comments Datagroup Chief Information Technology Officer Volodymyr Dubei.
"While executing the project with Datagroup we saw the company's willingness to transform and constantly improve the level of customer service. We applied a flexible approach to work planning and platform development. This allowed us to promptly respond to all the changes that took place within the company and launch bpm'online functionality within short timeframes. We are proud to have become an integrator company involved to implement this large-scale project," said Olena Musina, Managing Partner, EdenLab.
"This project marks the final stage of the company's full-scale transformation and digitalization of business processes. We remain focused on investing in new technologies and improving services for our customers," commented Mykhailo Shelemba, Datagroup CEO.