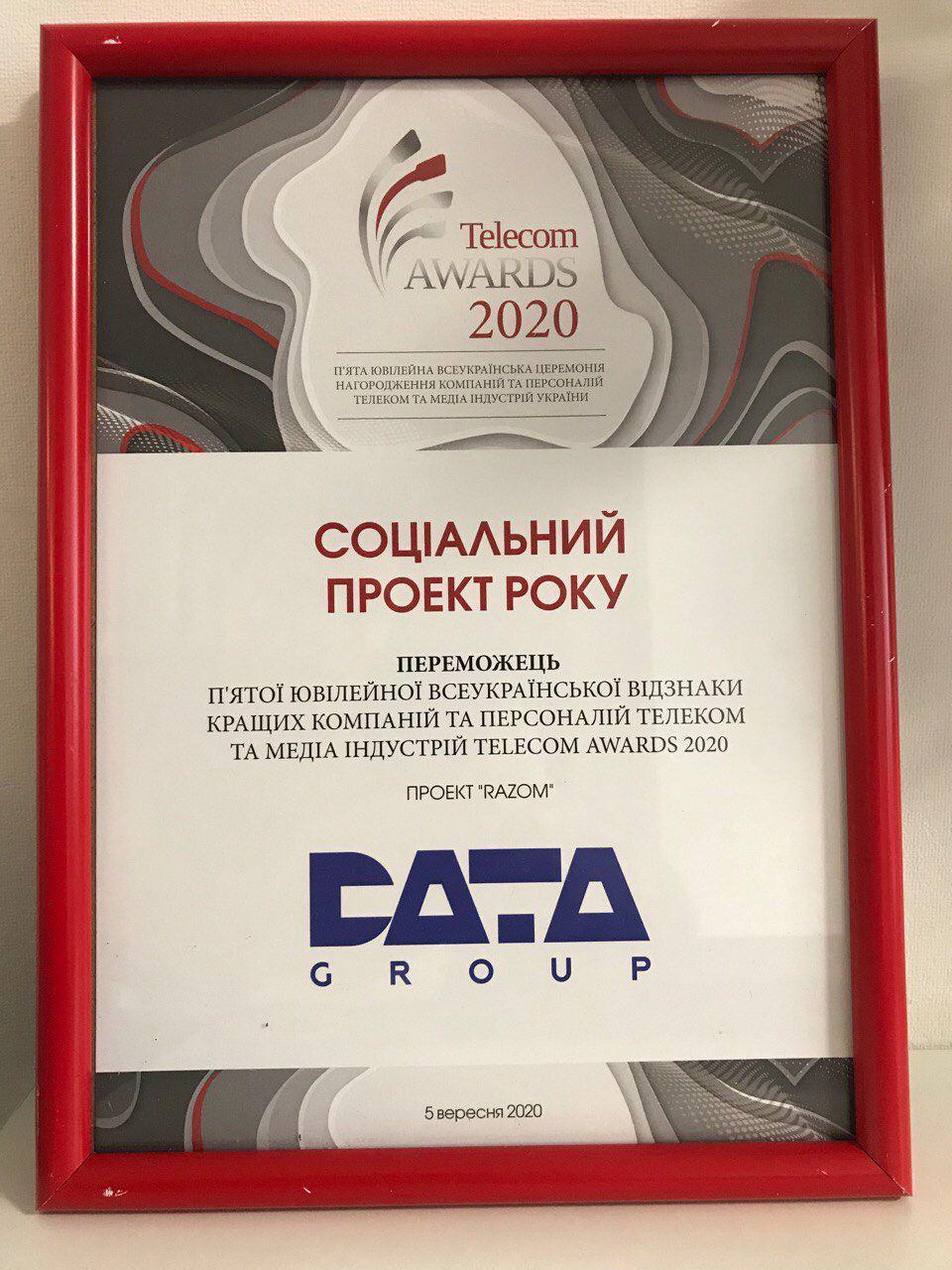 Datagroup's RAZOM project took the first place at the All-Ukrainian "Telecom Awards" in the nomination "Best Social Project of the Year".
10 projects from leading telecom operators and national ISPs were nominated for this award! The jury evaluated charitable initiatives and projects implemented by companies during the national quarantine period. The second and third places in this nomination were shared by Vodafone and Kyivstar with the projects "Find & Follow" and "Smartphone for Parents", respectively.
Experts and the jury praised the Datagroup project for the rapid deployment of the RAZOM online platform to support its business customers and local businesses operating in the conditions of quarantine. The task of the project is to increase the number of orders for businesses operating in Ukrainian cities.
"We are proud to have won the Best Social Project of the Year nomination. After all, this is another professional telecom community recognition, that we are a socially responsible business, a reliable and customer-oriented telecom partner. The RAZOM project originated within the company in order to support our business clients during the national quarantine period. During the implementation process, the project was scaled to provide an opportunity for all Ukrainian entrepreneurs to promote themselves. Currently, RAZOM covers 15 cities with up to 19 categories of goods and services in each of them offered by local entrepreneurs," said Mykhailo Shelemba, CEO of Datagroup.
The All-Ukrainian "Telecom Awards" is a unique award for the best companies and personalities of the telecom and media industry from the community "Telecom Ukraine". Every year, high-ranking experts evaluate promising and innovative projects, breakthroughs and discoveries, the overall performance of companies and the personal achievements of professionals.