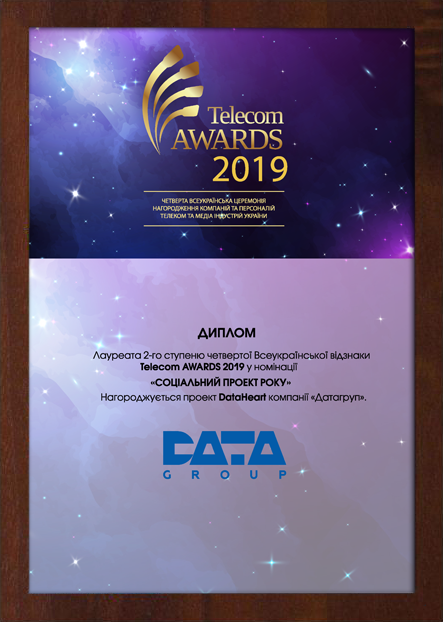 "DataHeart: sport for life" took the second place on the all-Ukrainian award 2019 Telecom Awards in the category 'Best social project of the year". Just for this award it was nominated 18 projects from leading operators SV'communications and Internet service providers on a national scale – and it was the most competitive nomination! The jury said the charity component of the project, namely, that in just six months, was held p'ive operations on transplantation of heart implant (the occluder), the kids from poor families. Also thanks to the project within the company began to actively develop a corporate culture focused on healthy'I and sports.
the Project "DataHeart: sport for life" started in the company early in the year and is now actively developing: 379 employees in sports and record their training. For each registered training company transfers funds to charity – the money to Finance heart operations for children from those families who are unable to pay for them. Any employee of the company can not only train, but also to transfer funds to charity yourself. From the start of the project have managed to collect 415 000 UAH and save p'five children's hearts. Staff registered 7113 training. Currently, the project can also join companies that want to develop a culture of sport and charity in themselves. For employees of the project partners created convenient form exercises and "Datagroup" the partners will provide transparent reporting for all training sessions to provide the opportunity for each partner to transfer funds to charity.
"For me, it's not just a project – it is a philosophy. In helping ourselves, we help the children. And the fact that this year we received the award for DataHeart from the Telecom community, strengthens my belief that this will continue. And healthy life take root in corporate culture, and subsequently throughout the country", – said CEO Datagroup Michael Shelembe.
national prize Telecom Awards – a unique award for the best companies and personalities in the Telecom and media industry from the community Telecom Ukraine. Each year, senior experts evaluate promising and innovative projects, breakthroughs and discoveries, shared the operation of businesses and personal achievements of professionals.