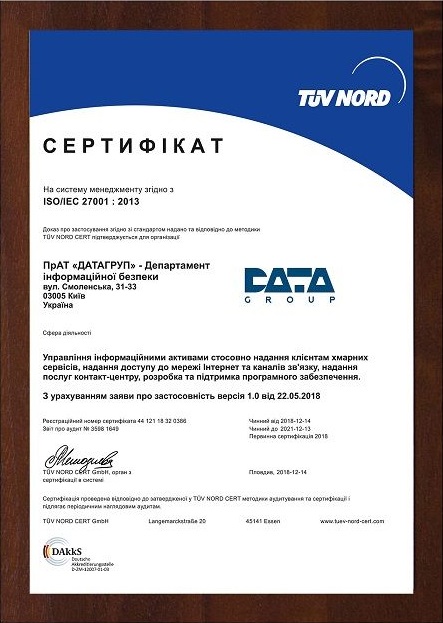 Datagroup has officially joined the pool of top 100 most information-protected companies of Ukraine by receiving a certificate from TÜV NORD international audit company on December 14. For previous 6 months the company has been settling business processes in accordance with the requirements of the standard.
«Receiving ISO 27001 certification is a significant achievement for Datagroup, because for us it is important not only to provide customers with the most reliable, safe and high-quality services, but to have confirmation of this, according to the most demanding international standards in the field of information security», - commented Alexander Prikhodko the Director of information security Datagroup. According to him, compliance with ISO 27001 ensures effective management and confirms the high quality of services with confidentiality, integrity and availability of information, which is especially important for business customers of the various Telecom and IT services that work with personal data of clients, in particular banks.
The certificate confirms that information security management system (ISMS) organized in the company meets all the requirements of international standard ISO/IEC 27001:2013 in the following areas: management of information assets on providing customers with cloud services, provide access to the Internet and channels of communication provision of services of the contact center, development and support of software.
According to ISO information at the end of 2017 in Ukraine, only 47 companies have been certified according to this standard (39.5 thousand all over the world). The standard was developed in 2005 and since then has been updated several times in accordance with the constantly growing demands of the market. It contains requirements in the field of information security for the creation, development and support of the ISMS.