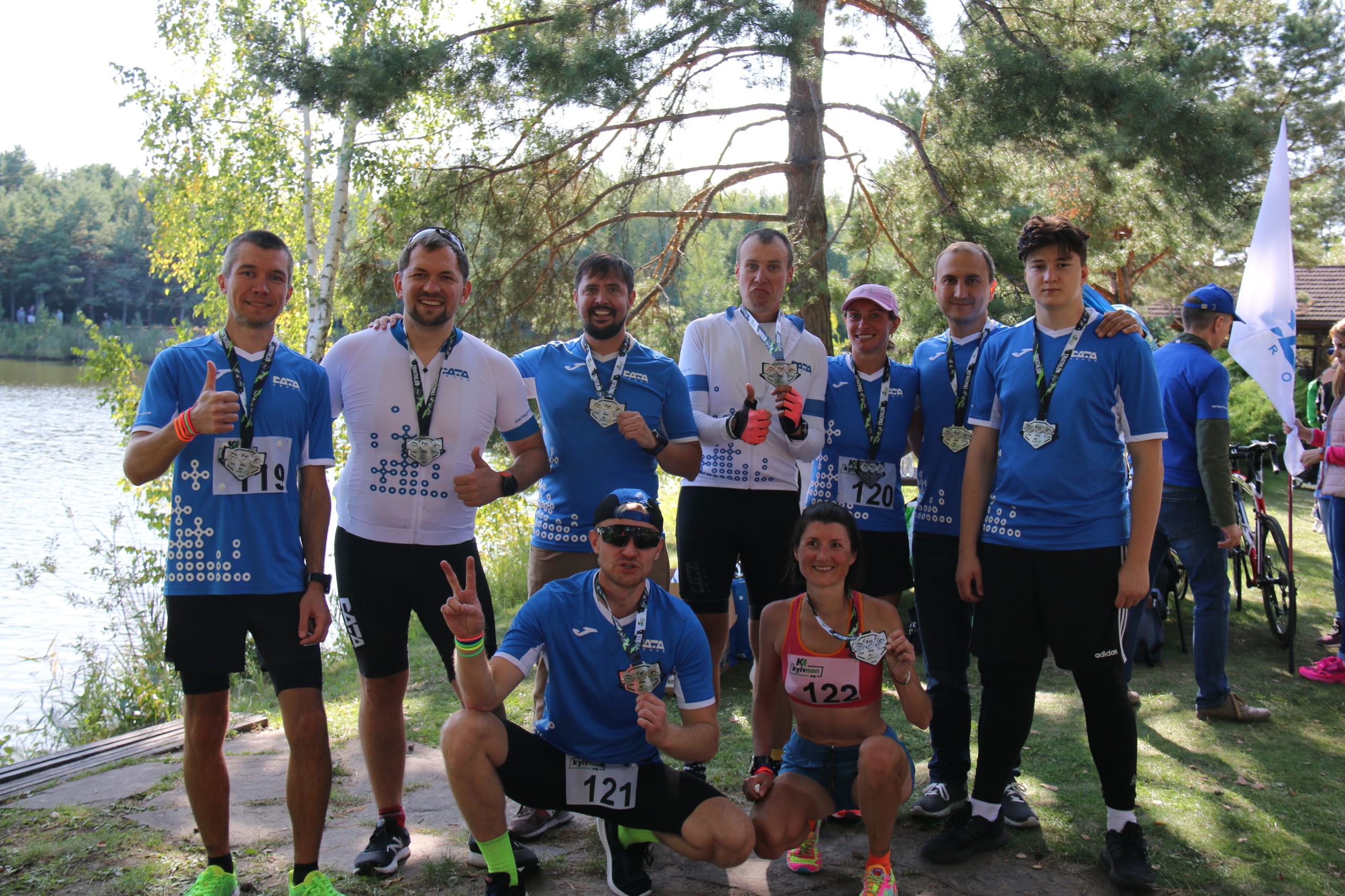 On September 19, the Kyivman 70.3 race took place in Sukholuchye. It will be recalled that these competitions are the result of cooperation between large companies and people dedicated to sports and their favorite cause. Thanks to their support the Kyivman 410 Extreme Triathlon was held for the first time in Ukraine. Datagroup supports the promotion of sports in Ukraine in general and in the corporate sector in particular, that is why became the general partner of the Kyivman 410 and Kyivman 70.3 series of sports events.
The Kyivman 70.3 route consisted of the following sections: 1.9 km swimming, 90 km cycling, 21 km running. A total of 170 athletes took part in the competition. 25 teams took part in the relay race, including four corporate teams of Datagroup called DataHeartTeam. According to the results of the relay, all the company's teams were among the top twenty participants. At the same time, our first team got into the top 10 and took ninth place in the overall relay with high results.
DataHeart No.1:
Mykhailo Shelemba (2:52 in 90 km cycling race)
Oleksiy Borodai (0:29 in 1.9 km swim)
Maxim Tyshenko (1:24 in 21 km run)
The team DataHeart No.2 took the 11th place, DataHeart No.4 took the 14th place, and DataHeart No.3 was the 16th. Datagroup athletes, in addition to excellent results, also showed great team spirit.
DataHeart No.2:
Andriy Val (0:37 in 1.9 km swim)
Serhiy Kuzmin (2:42 in 90 km cycling)
Irina Ivanova (1:35 in 21 km run)
DataHeart No.3:
Andriy Lazarenko (0:43 in 1.9 km swim)
Dmytro Bratslavskiy (2:55 in 90 km cycling race)
Andriy Fedchyk (1:29 in 21 km run)
DataHeart No.4:
Andriy Rybalchenko (3:01 in 90 km cycling race)
Victor Val (0:32 in 1.9 km swim)
Kseniia Mukhametshyna (1:31 in 21 km run)
Our support group was unsurpassed as always – it was heard in the farthest corners of the residence Sukholuchye! Thank you to everyone who shared with us this holiday of sports, health and team spirit! We hope that next year Datagroup athletes will repeat the success of our "relay racers" and cross the finish line among the first ones.