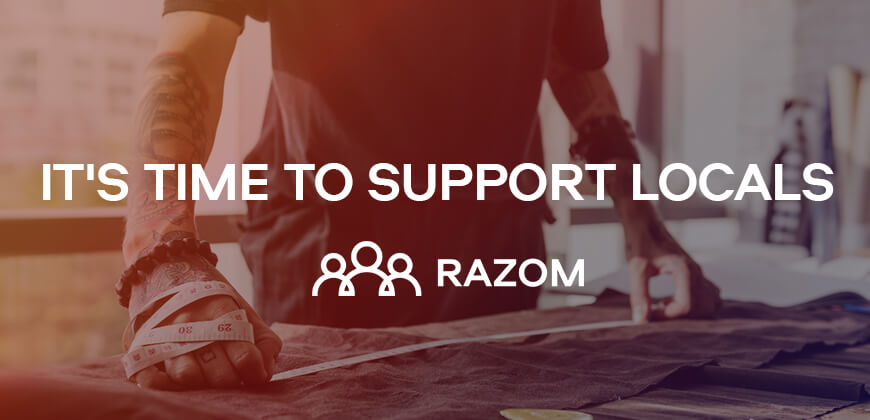 The aim of the project RAZOM (together ukr.) is to help uniting small and medium businesses with consumers in Ukrainian cities.
"Datagroup" is one of the leading operators in the market of Telecom services for business and home. The company aims to support Ukrainian entrepreneurs in this extremely difficult time. Within the project experts of "Datagroup" has created an online platform on which there is the compiled catalog of companies and offers from local entrepreneurs, who continue their work. The objective of the project is to increase the number of orders for businesses operating in the Ukrainian cities. Now the geography of the RAZOM project covers 15 cities: Kyiv, Rivne, Zaporizhzhya, Dnipro, Lviv, Mykolaiv, Kremenchug, Vinnitsa, Odessa, Kharkiv, Krivy Rig, Lutsk, Khmelnytsky, Dnipropetrovsk, Nizhyn. The first businesses that signed up on the website RAZOM, are the business customers of "Datagroup". Website of the project gives the opportunity to all Ukrainian businesses to get visible. Orders will come from residents of cities in which these businesses work.
"We know that many of our business customers in different cities of Ukraine, are waiting for new customer orders to continue development of their business, not interrupting the business processes and not to fire workers. At the same time a lot of our customers are looking for best offers to support their neighbors, friends and relatives. So we decided that we can unite people: connect sellers and buyers to grant the benefit for everyone. To make it happen "Datagroup" has created an online platform RAZOM. This business platform will become the place where all the economically active and caring people will be able to find new business partners», – says Mykhaylo Shelemba, CEO of "Datagroup".
Main benefits for Ukrainian business are:
easy and quick registration;
free posting of information on the website RAZOM;
informational support of the RAZOM project among the base of thousands subscribers of "Datagroup" in Ukraine.
If you are an entrepreneur and wish more people in your town to know about you and your products or services "Datagroup" will help you with this. Visit the website RAZOM and fill in the online application form. You will receive an electronic agreement and a link to the application form for participation in the project. After processing the information about you and your product will appear on the online platform RAZOM. "Datagroup" will promote the information about this website among individuals living in cities, where companies – members of the project RAZOM are working.
Now the site is already receiving over 20 applications from entrepreneurs every day, and this is just the beginning! Upon request, business professionals of "Datagroup" are ready to expand the geography of the project: to add new cities and update information about local companies.
If you want to help entrepreneurs in your city – visit website RAZOM and order goods or services from local businesses.
It is time to support locals. Let's help RAZOM!