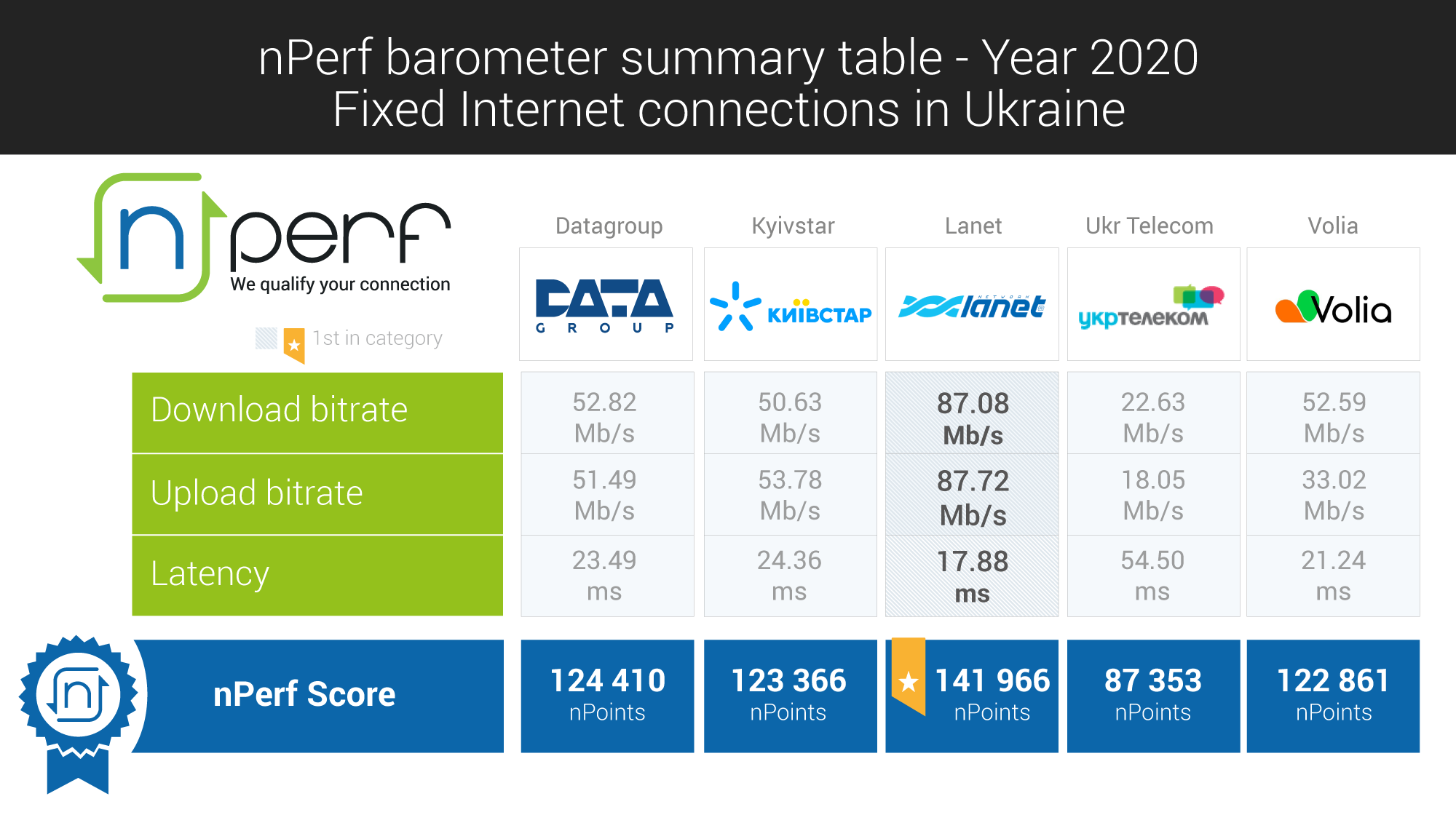 The international service nPerf that measures the speed of Internet connection, summed up the results of 2020. According to the test results, Datagroup took second place in the ranking in terms of download and upload speed. The average download rate in the company's network was 52.82 Mbps, and the upload speed was 51.49 Mbps. In addition, the tests demonstrated the Datagroup ability to keep the low letancy during some time regardless of the load on the network (number of connected end users). In total, during the study period, nPerf users conducted 400,935 connection tests to the five largest Internet providers in Ukraine – Datagroup, Kyivstar, Lanet, Ukrtelecom, and Volia.
"We are pleased to see an independent assessment of the quality of our services by users and international market experts. nPerf Speed test is an annual report that identifies companies that offer the highest quality fixed internet in Ukraine. This report once again confirmed that we are fulfilling our main task, high-speed high-quality Internet provision to subscribers, while providing uninterrupted access to our services," – said Volodymyr Lutchenko, Technical Director of Datagroup.
It will be recalled that according to the results of an independent rating survey "Ukrainian People's Award", which was attended by more than 140,000 consumers of services, Datagroup won the nomination "Best Internet Service Provider 2020". This is the largest annual competition in Ukraine, where Ukrainian consumers determine the best goods and services in the online voting format.
Datagroup currently provides home users with access to the Internet through various technologies, which allows you to connect to the World Wide Web in any part of the country. The company's services allow you to use the endless possibilities of the Internet and discover the world of interesting television without leaving your home. Reliability and convenience are the principles that guide Datagroup in providing services to its subscribers.