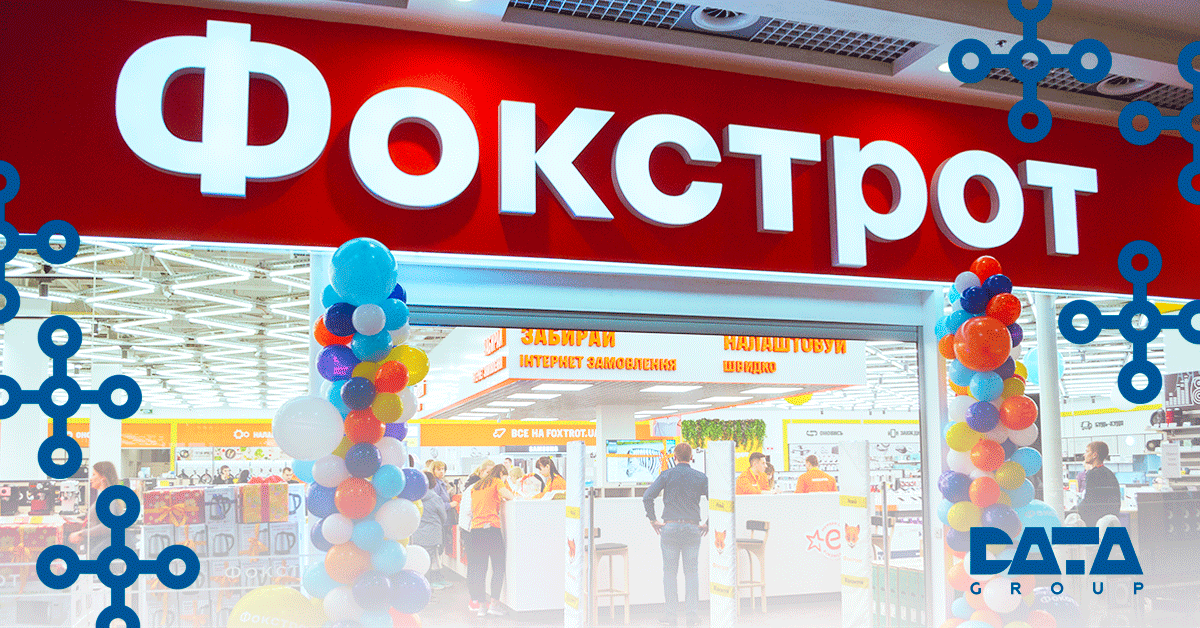 Project was implemented within 5 months. Its main task was to connect 162 stores of Foxtrot throughout Ukraine by high-quality high-speed Internet with the speed of 50 Mbps by the beginning of July 2020, while ensuring a uniform SLA level.
Thanks to Datagroup wide optical-fiber coating the project was able to connect the maximum number of points in Datagroup network, providing at the same time the high quality of service. It resulted in stores and offices covered by internet connection in all points of the network using fiber-optical channels (with a main channel 2 GB/s in Kyiv), minimizing the risk of falling channels, reducing downtime, improving quality and stability of internal information systems.
"Foxtrot stores are located approximately in 100 cities of Ukraine, not only in regional centres, but also in district centers. Thus, the turn-key internet access services from one company is not just an issue of managerial convenience, but also reliability and economy. We are really proud to be the No. 1 company in Ukraine, which can implement projects of similar scale and complexity", – says Irina Bliznyuk, head of corporate sales of Datagroup.
"Before making the offer on communication channels provision for the project, we analyzed all the requirements and objectives of the client, determined the terms and conditions and formed several exclusive offers. In addition, our reputation and positive feedback from numerous partners from various business sectors (retail, banking, etc.), the high professionalism of the technical and commercial teams played on our side. As a result, the client entrusted us with this turn key project implementation, and in a defined time we fulfilled all the clauses of the contract", – says Vyacheslav Kostyuchenko, specialist of corporate sales department of Datagroup.
Olexander Tovstenko, head of the telecommunications division of IT Department at GC Foxtrot, said that availability of own teams of engineers who promptly respond and fix the accident, report about idle time or a network upgrade in advance was an important factor when choosing a Telecom partner. "The result is a uniform network of data transmission channels on MPLS technology, optimized operating costs for maintenance of network infrastructure, reduced risks of breakdowns and drops of services that generally improved the interaction between the Central and regional offices, has improved the efficiency of the business processes of the company», – said Alexander.
"Thanks to cooperation with Datagroup, Foxtrot fixed the main task of obtaining high-quality Internet service, with individual SLA level, good technical support and service from a single source. And all at the best rates. I am sure that reliable Internet connection will be an important component in the complex of ongoing changes in the business processes of the company, and the introduction of new services in the network", – sums up the Director of Foxtrot network Oleksiy Zozulya.