On December 7, the representatives of the UN Global Compact in Ukraine held an Anti-Corruption Week in Osvitoria Hub. Datagroup, together with leading business representatives, joined the UN Global Compact initiative – the Memorandum on Joint Anti-Corruption Actions in Ukraine was signed. The initiative should help to create a transparent environment where corruption is not possible, which will stimulate the economy, companies, and society.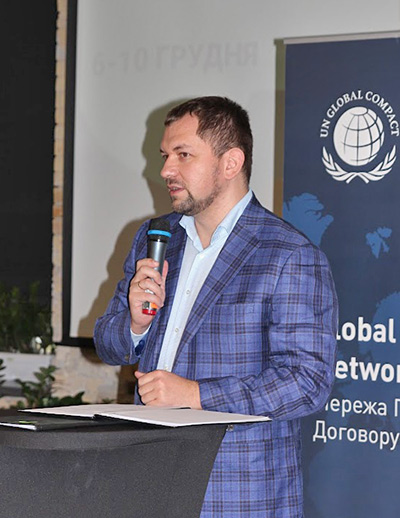 Datagroup has always focused on creating a reliable and efficient supply chain management to ensure a transparent business. The signing of the Memorandum is an important initiative that creates additional opportunities to reduce corruption in Ukraine. This step will also increase the level of trust and respect of the customers and partners, employees, as the Memorandum covers not only specific anti-corruption measures, but also introduces standards for working with the employees and counterparties. "We make a commitment not only to comply with legal regulations, but also to aim for zero tolerance of corruption in the company," says Mykhailo Shelemba, CEO of Datagroup and Volia.
"It is through the principles of integrity, openness, and transparency in the way we do business that we have maintained our impeccable reputation as a leader in the telecoms market, and this has helped us to start our partnership with the EBRD, which resulted in a $65 million financing. We invested these funds in the business to support its growth and development – the acquisition of Volia and a full-scale network upgrade together with Cisco," added Mykhailo.
A transparent business environment in Ukraine is the most important condition for decision-making on investment, business development, and retaining talents in the country to develop the high-tech sector.
Tetyana Sakharuk, Chief Executive Director of the UN Global Compact in Ukraine, thanked all the companies that had joined the signing of the Memorandum on Joint Anti-Corruption Actions, and stressed:
"The UN Global Compact Network Ukraine joined the Anti-Corruption Collective Action initiative in September last year. And at the global level, this program has been operating for more than 10 years. This year, we are finalising a video course for SMEs and launching a parallel programme to set up a platform for dialogue between business and government. It is a real pleasure to us that business leaders are joining this initiative and share the view that we need to work together to solve this problem."
This year the Memorandum was signed by: Nestlé Ukraine, KPMG Ukraine, Naftogaz of Ukraine, Interpipe Ukraine, Carlsberg Ukraine, Energetic Country NGO, BASF, ETHICONTROL, Parimatch Ukraine, Transparent Democracy NGO, Datagroup, Metinvest Holding, Pravex Bank (Intesa Sanpaolo Group), COSA, Danone in Ukraine and Kyivstar.
Please be reminded that Datagroup became a new member of the UN Global Compact in Ukraine in July 2021. By becoming a member of the UN Global Compact, the company commits to ten principles in the main four areas: human rights protection, labour relations, environmental protection, and anti-corruption.