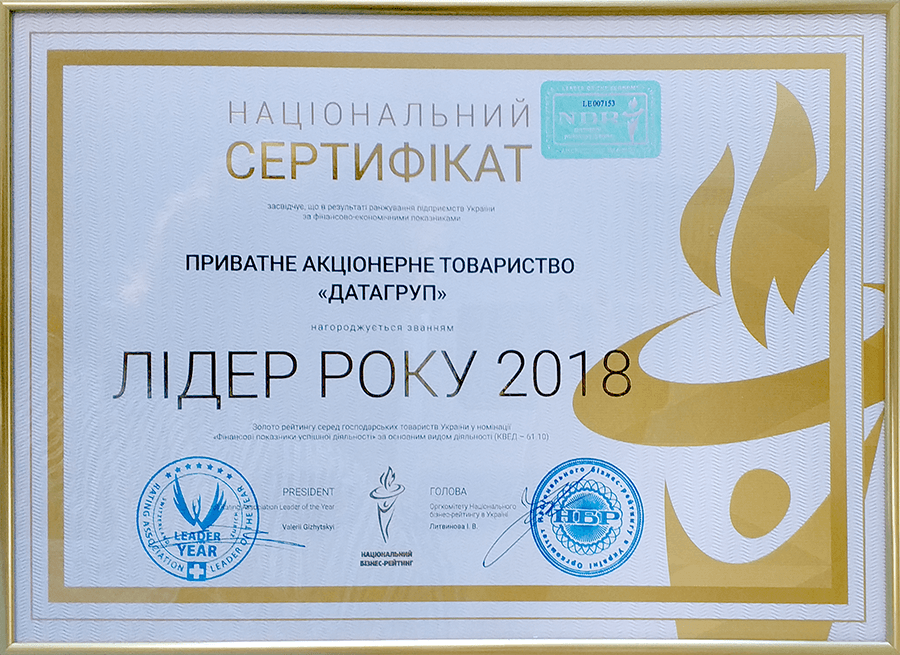 According to the research results of National business rating "Datagroup" recognized as one of the most efficient companies of Ukraine in the branch, and confirmation of the high status of reliability and efficiency business has become a prestigious award "leader of the year – 2018".
Recently "Datagroup" received an official certificate certifying the results of the company leader. The certificate is awarded to companies to confirm their high position in the sectoral ranking based on the analysis of financial and economic indicators. Is a symbol of success and leadership in the industry in this period, a grant for outstanding achievements in the management of the company, social activity, openness to the state and honest partnership.
"We are proud to have received the title of "leader of the year – 2018" because it is yet another confirmation of a successful ambitious two-year transformation that allowed us to improve the operational efficiency of our business», – commented Michael Shelemba, SEO "Datagroup".
national business rating for the past 14 years, holds the ranking of companies and enterprises of Ukraine and for today is one of the most authoritative in the field of assessment of efficiency of business.
About the NDB:
NBR – representative office of the international Union of National business ratings in Ukraine, which in'combines the organizing committees of National business ratings in Europe and Asia, identifies international principles of rating, initiates a program of awards and organizes large-scale events for entrepreneurs.
national business-rating demonstrates a level of success and stability of the enterprises of Ukraine among similar in size, economic activity, geography of work.
It'tivni source of information about businesses for internal use (managerial decision making) and external users (investors, government, banks, insurance companies, media, etc.).