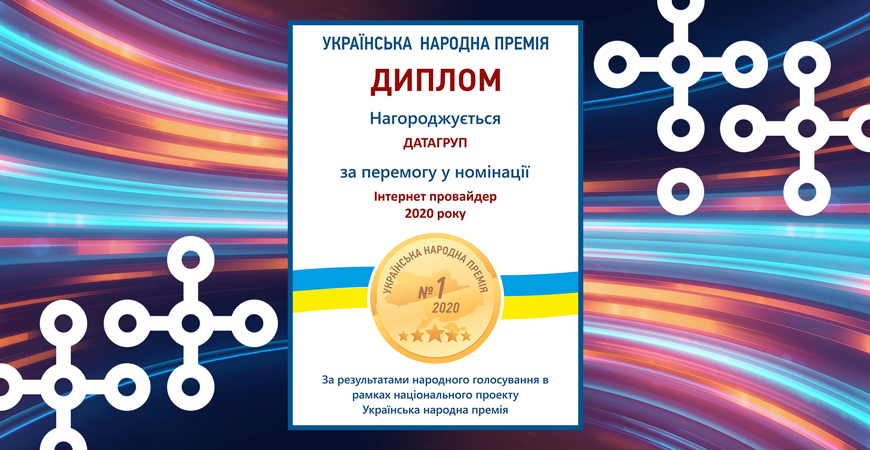 Datagroup won the nomination "Best Internet Provider 2020" according to the results of an independent rating study "Ukrainian People's Award" filled by more than 140 thousand consumers. "Our company is one of the recognized leader in providing telecom services for large business. However, we make a tremendous effort to be the best operator for our retail customers as well. And today I can proudly state that we succeeded!" – said Mykhailo Shelemba, CEO of Datagroup.
The Ukrainian People's Award is the largest annual competition in Ukraine, where Ukrainian consumers determine the best goods and services by online voting. The Ukrainian People's Award has the best dynamics of developing consumer recognition and trust. Voting 2020 included goods and services of 24 different categories: real estate, food, entertainment and recreation, beauty and health, services, technology, business and finance, as well as the Internet, communications and more. A total of 487 winners were determined in various categories.
Open online voting for "Ukrainian People's Award" lasted from 01.05.2020 to 31.08.2020. More than 140 thousand Ukrainian consumers voted. In order to prevent re-voting, those wishing to take part in the voting had to confirm their e-mail address and mobile phone number (Ukrainian GSM-operator). During the registration procedure, users had to register on the website of the Ukrainian People's Award (SSO ID NET) or authorize in one of the social networks – Facebook, Google+, LinkedIn, EDS (electronic digital signature).
"Our project is aimed at determining the best goods and services at the Ukrainian market based on the preferences of the fairest and strictest jury – Ukrainian consumers. Therefore, our winners are undisputed leaders in their fields, who received people's recognition and were recognized as the best by Ukrainian consumers as a result of the voting," – said Mykola Soroka, chairman of the organizing committee of the Ukrainian People's Award.
"For producers and service providers, this competition is an indicator of consumer confidence, which stimulates improvement and continuous development. We are glad that among the largest players in the market of Internet services, users have recognized our company as the best. For us, user evaluation is the most important reward and true recognition," – comments Alina Kompanets, Marketing Director of Datagroup.
Datagroup currently provides home users with access to the Internet through various technologies, giving priority to Ethernet, xPON and satellite technology, which allows you to connect to the World Wide Web in any remote corner of the country. Telephony (traditional and IP) and modern television (cable and OTT) services are also available to individuals. Extensive network coverage allows providing high-quality and high-speed Internet subscribers in more than 90 settlements of Ukraine, and thanks to the satellite used by the company, its network coverage in Ukraine has no limits. The company's services allow you to use the endless possibilities of the Internet and discover the world of interesting television without leaving your home: cable TV provides more than 80 TV channels (depending on the region), including major national TV channels, Viasat channels, sports, children's, educational TV channels in excellent quality and at an attractive price, as well as interactive television, where there are more than 140 best Ukrainian and foreign entertainment TV channels, a large collection of movies and TV series.