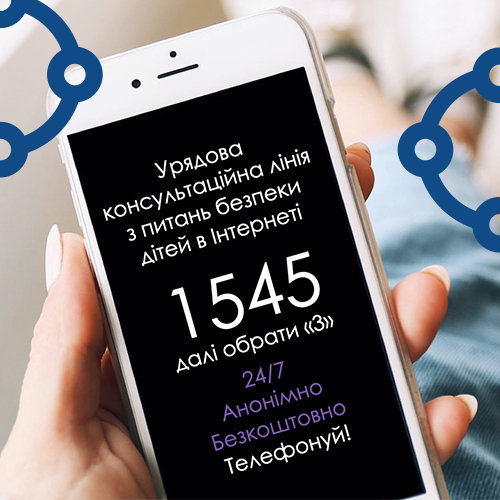 We support important educational government and community initiatives that help promote safe Internet use among adolescents and children.
With the support of Datagroup, starting from September 15, 2020, the Government Advisory Line on Child Safety on the Internet – 1545 (select 3), which was created by the Government Contact Center in partnership with the #STOP_SEXting educational project in cooperation with the Patronage Service of the Vice Prime Minister – Minister of Digital Transformation of Ukraine, the Ministry of Social Policy of Ukraine, the Ministry of Internal Affairs of Ukraine and the Commissioner of the President of Ukraine for Children's Rights, began operating in Ukraine. The line specialists work around the clock and provide information on safe behavior in the digital environment to prevent violence, rights violations and other abuses on the Internet, as well as on ways to respond to a negative online experience.
The advisory line targets both children who face online problems and adults whose children are victims of cybercriminals. Anyone interested in child protection issues on the Internet can call and get advice.
Since February 5, 2019, with the support of Datagroup, schools in Ukraine have been holding lessons on the topic of protecting adolescents from sexual risks on the Internet "Internet selfies - jokes or dangerous risks?". Lessons took place in almost all educational institutions of the country, because, according to statistics, 16% of children in the world send their intimate photos to friends or strangers from the network (this is about half a million Ukrainian children*).
The lesson was held within the preparation for the International Day of Safe Internet specially for the #STOP_SEXting campaign by the team of the Commissioner of the President of Ukraine for Children's Rights in cooperation with the Department of Cyberpolice of the city of Kyiv, Ranok Publishing House and Datagroup specialists.
Datagroup cybersecurity specialists are participants in the process of developing and implementing the project "National Strategy for Child Protection in the Digital Space 2020-2026 – Secure Internet in Educational Institutions».
We are for Internet security for everyone!