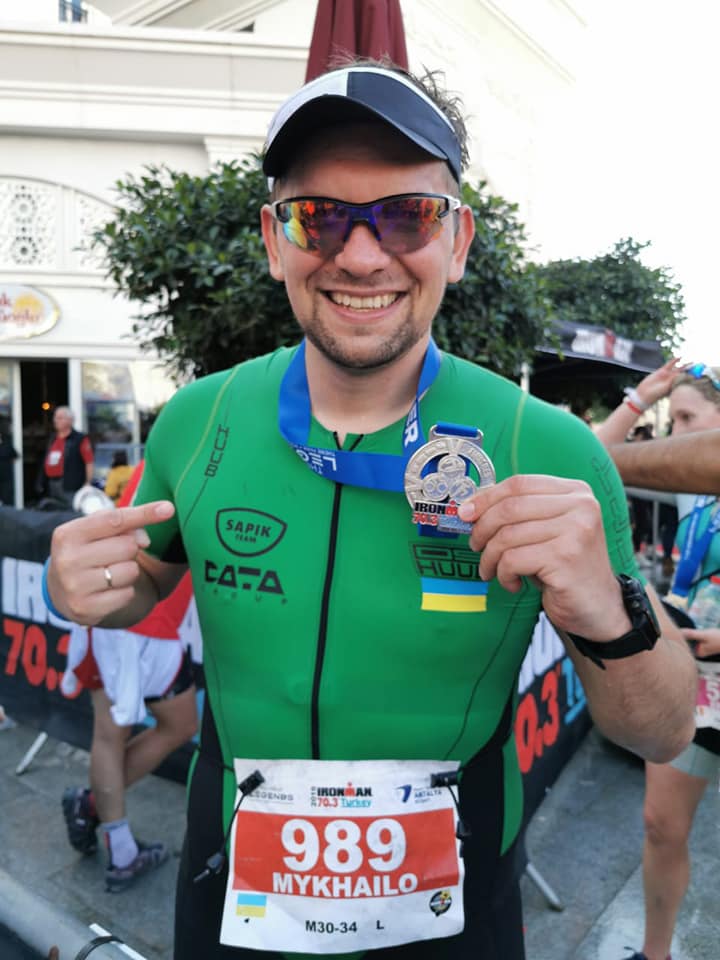 On November 3, one of the largest sporting competitions in the world – IRONMAN 70.3 Turkey, was held on the coast of Antalya in Turkey. The ironman race consisted of three stages: swimming (1.9 km), cycling (90 km) and running (21.2 km). Mykhailo took 919 place in the overall standings and 158 place in his age category. In total this year, more than 1,500 athletes aged 18-72 years, gave the audience unforgettable emotions and exciting moments.
Competing in swimming, cycling and running, the participants demonstrated endurance, willpower and desire to win. Mykhailo carried out the program at 5:46:16. This is a great result!
"Thank you to my family for their support, understanding and motivation! Today I lived and enjoyed every step at a distance, and there was still time to think about life and how grateful I was to fate for everything in my life. A year ago, I did not like much in my life, but I could not change it. Sport for me has become an "object of gravity", it has given strength to change myself as a whole to the better. Thanks to Daniil Sapunov for coaching me. Thanks to our DataHeart Team for their support and inspiration, especially for their flashmob-support that they organized the day before!", – commented Mykhailo Shelemba.
Recall that this year the Telecom Ukraine community rewarded Mykailo Shelemba, CEO of Datagroup, with all-Ukrainian Telecom Awards – he won first place in the Telecom Challenge. In this nomination, representatives of the telecommunications industry and the Ukrainian media were evaluated for personal achievements in sports, personal advancement programmes, music, literature, art, travel, etc.
The expert jury noted that Mykhailo with his sporting achievements sets an example for employees, promoting the development of a health-oriented and personal growth corporate culture within the company. In particular, he participates in running and cycling marathons, in the Olympic triathlon. On July 21, 2019 Mykhailo took part in the Bosphorus Cross-Continental Swimming Race 2019. Overcoming the 6,5 km long strait between Asia and Europe, he received a certificate of an Intercontinental swimmer. Mykhailo can be called for sure the most athletic CEO of the Ukrainian telecom market.
About IRONMAN 70.3 Turkey
IRONMAN 70.3 Turkey is a triathlon tournament, combining three sports disciplines – swimming, cycling and running, and is considered to be one of the toughest sporting competitions in the world.