New functionalities and features
Datagroup's classic secure web access provides:
protection, integrity, and availability of data and information transmitted through the web
protection of the confidentiality, integrity and availability of technological information components and technological information via secure web access
protection of information resources, including from unauthorized access and modification
However, there are other threats to which the defense of the classical secure web access may not be ready. Each year, the number of cyberattacks is skyrocketing, and their complexity and resistance to classic security is evolving. This has resulted in the need to revise the implementation of REDD to complement the services that enhance the security level of an organization and simplify the cyber security measures.
To confirm this, on December 22, 2020, Datagroup received an updated certificate of conformity of the comprehensive information protection system of the protected Internet access node from the State Service for Special Communications and Information Protection of Ukraine.
To learn more about the features and functionalities of classic and updated protection from Datagroup, download the presentation.
New features of the updated secure web access from Datagroup:
antivirus protection
eradicate malware
protect against network attacks
intrusion prevention system
block malicious sites and site categories
control the use of software by employees
monitor access to web resources
leverage powerful analytics, monitoring and alerts about incidents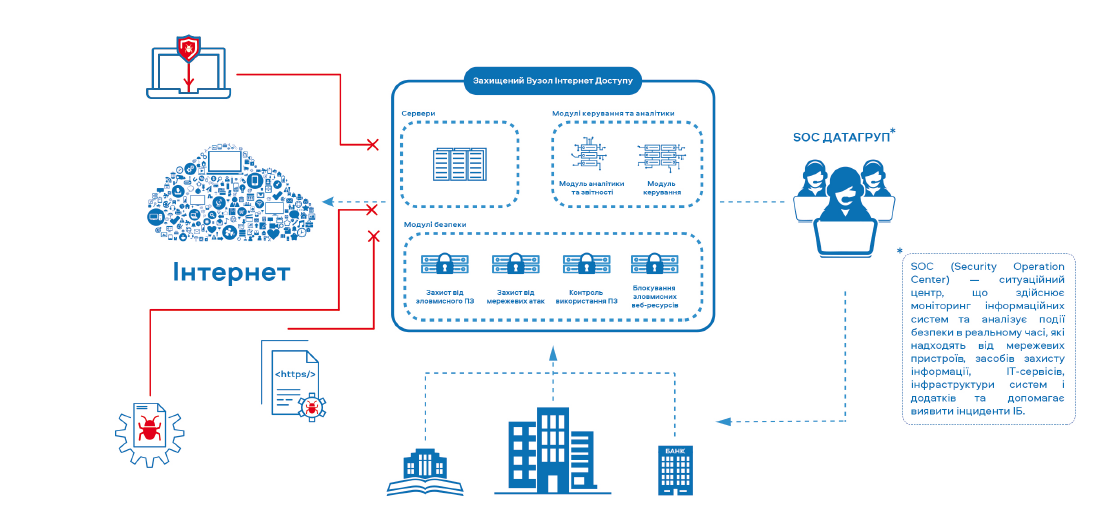 Benefits of the extended functionality of Datagroup's secure web access
comply with applicable laws and regulations
choose additional anti-virus protection for your organization
prevent cyber threats caused by specific software
monitor the activities and efficiency of your employees
get transparent reporting according to selected criteria
receive advice, support and investigation of incidents
save on financial and human resources
Intrusion prevention system
Monitoring and event notification